A groundbreaking interactive for a groundbreaking drama
I May Destroy You was one the biggest break-out TV shows of 2020, on BBC One in the UK and on HBO around the world. Written by and starring Michaela Coel, it tells the story of the lead character Arabella's journey to recovery after the trauma of being sexually assaulted, and wrapped up in other issues facing society including racism, gender politics, sexuality and class.
With such important and challenging topics, the show was not only embraced by critics, but created a huge online conversation about its subject matter.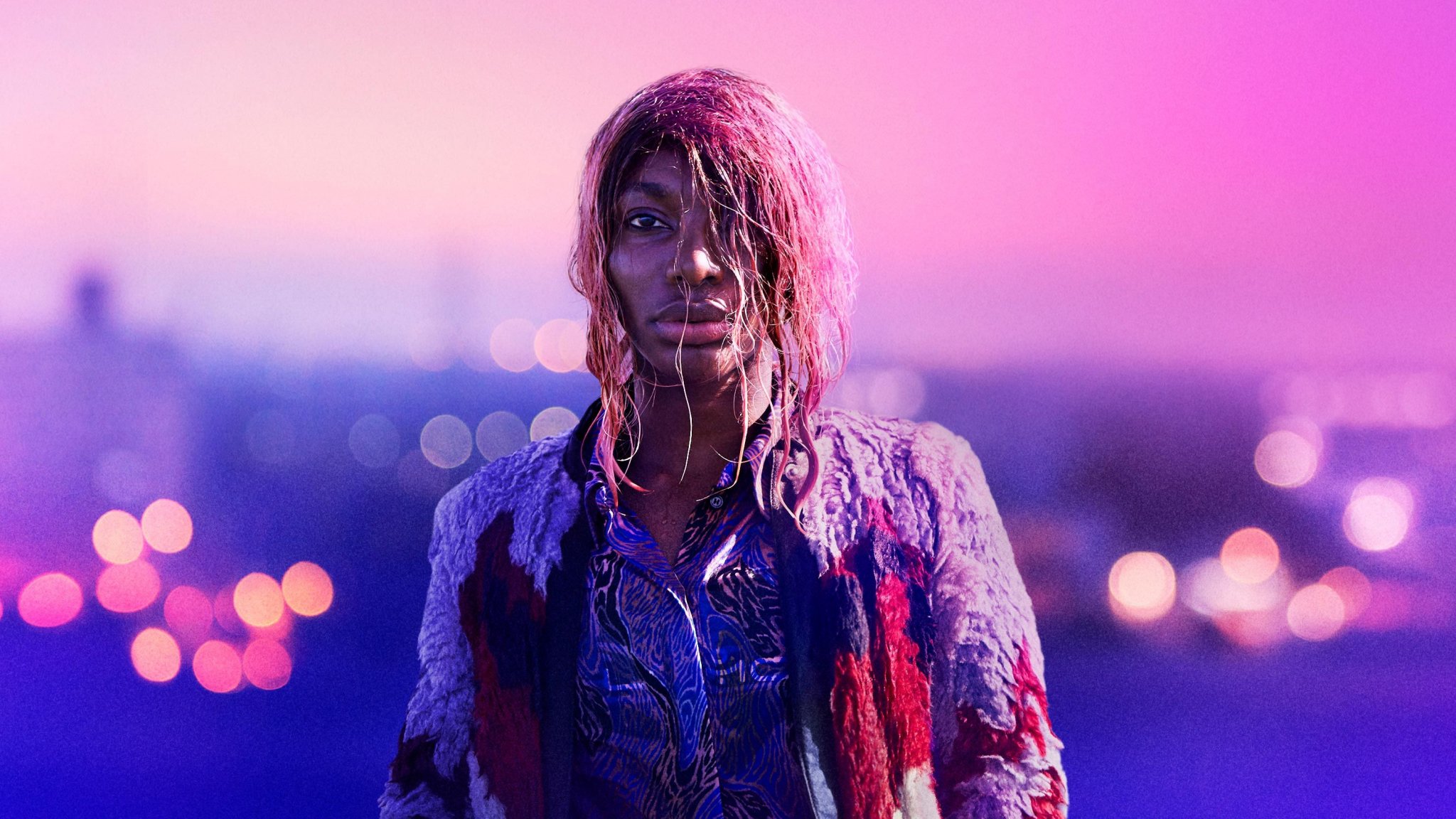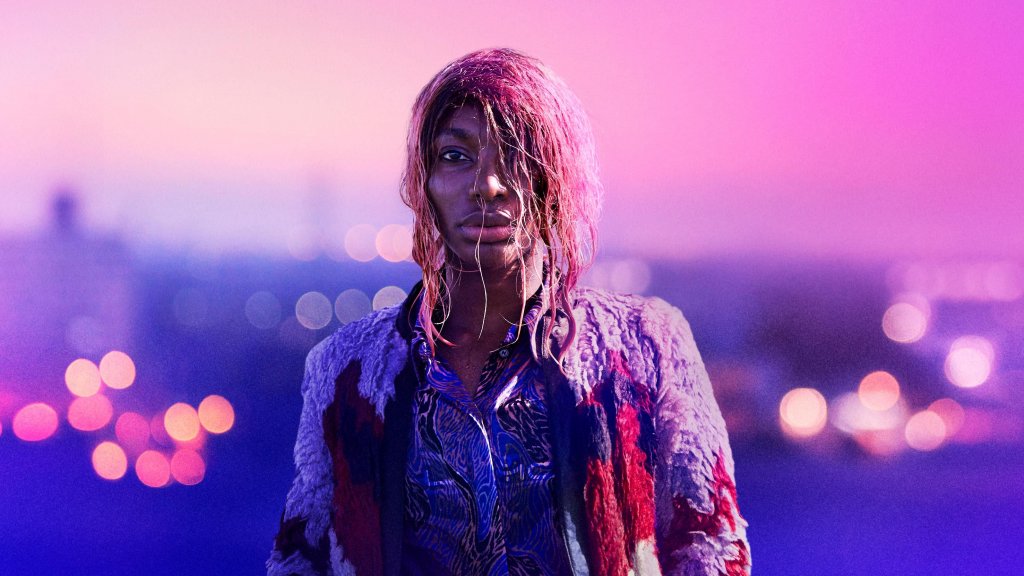 BBC Creative wanted to capture and showcase some of the ideas, voices and stories that were already being organically expressed, further allowing audiences to continue these discussions about sex and consent.
As part of the multi-platform, content-driven campaign (which saw partnerships with publications including Gal-Dem and The Face), we produced and realised a 360° interactive gallery. The gallery aimed to give power and platform to the voices that so often go unheard by showcasing online conversations sparked by 'I May Destroy You', between real people sharing their own stories. By using 'Dear Bob/Barbara' – as in the show – we keep the anonymity of both victim and perpetrator and create a collective voice, making room for everyone to heal, discuss. and most importantly, learn.
Fantastical 3D space to explore
We take the viewer on a 360° journey through a fantastical architectural environment – an ambiguous, claustrophobic concrete space, possibly an urban car park or factory; possibly an art gallery, with bright daylight visible above, but just out of reach.
The walls are plastered with typographic artworks and videos containing quotes and extracts from the show and the online reaction conversations. There are three separate spaces on the journey – ending in a spectacular cathedral-like room with a message of hope.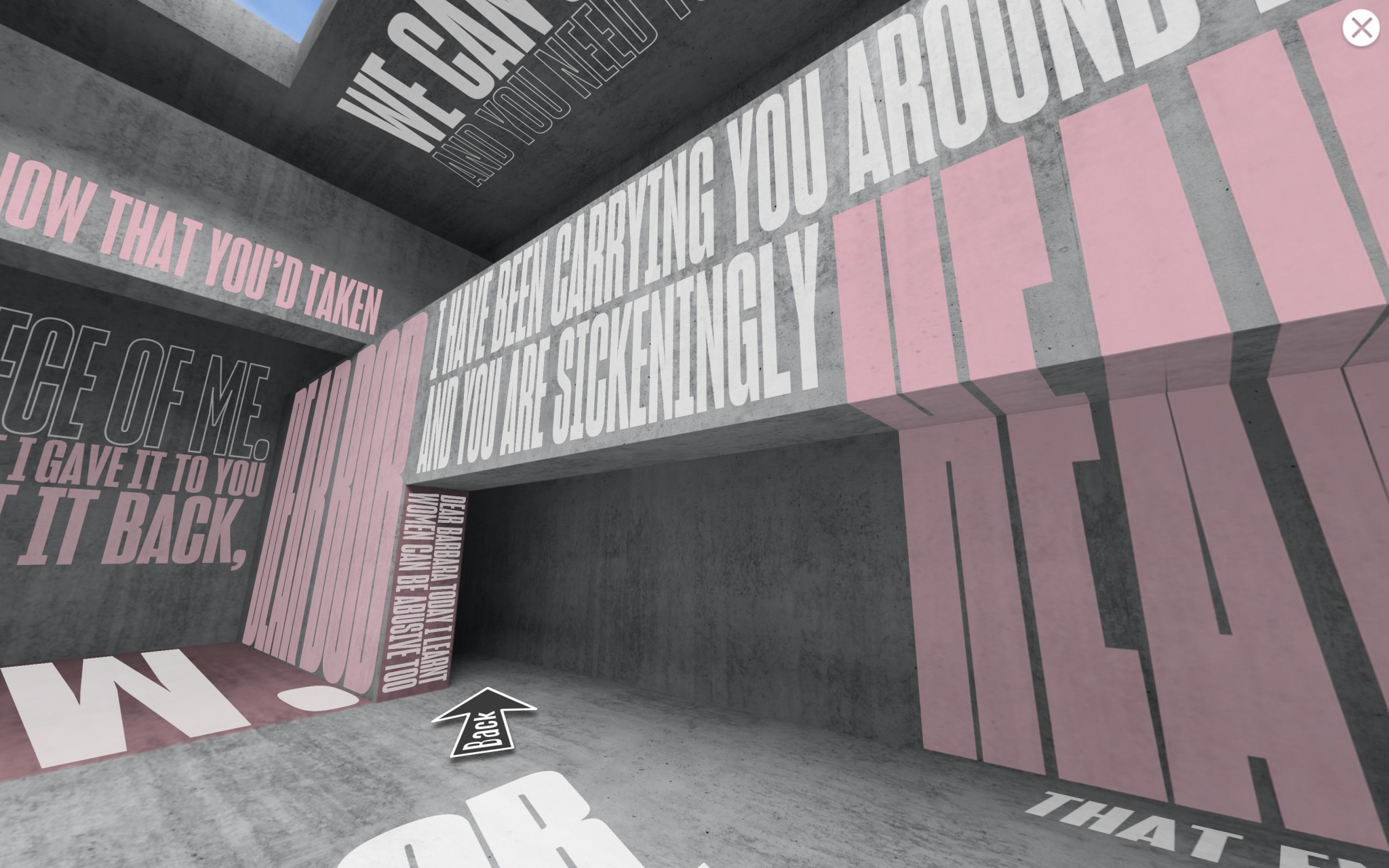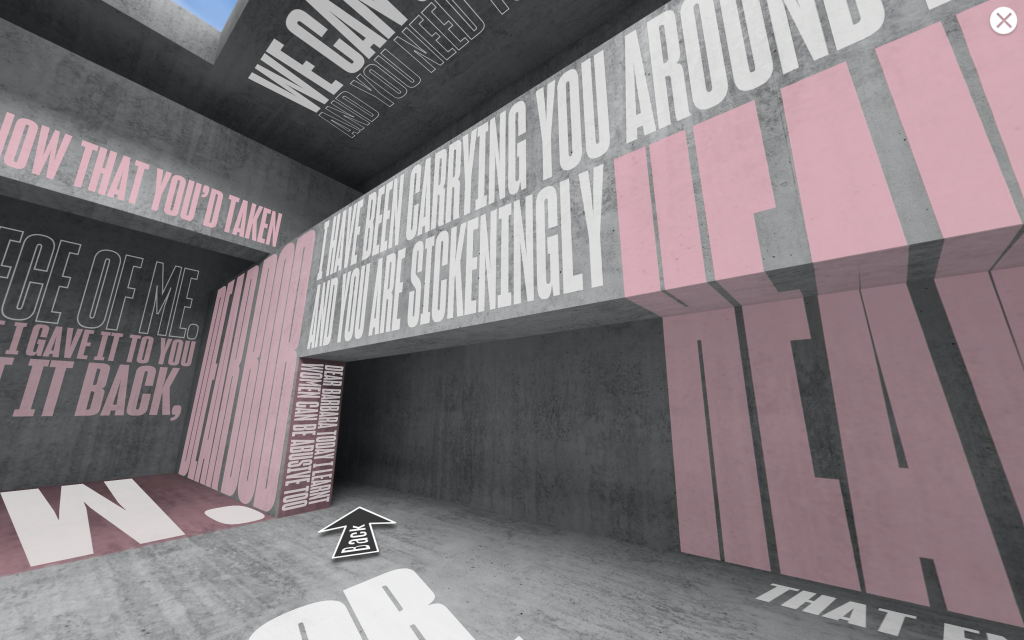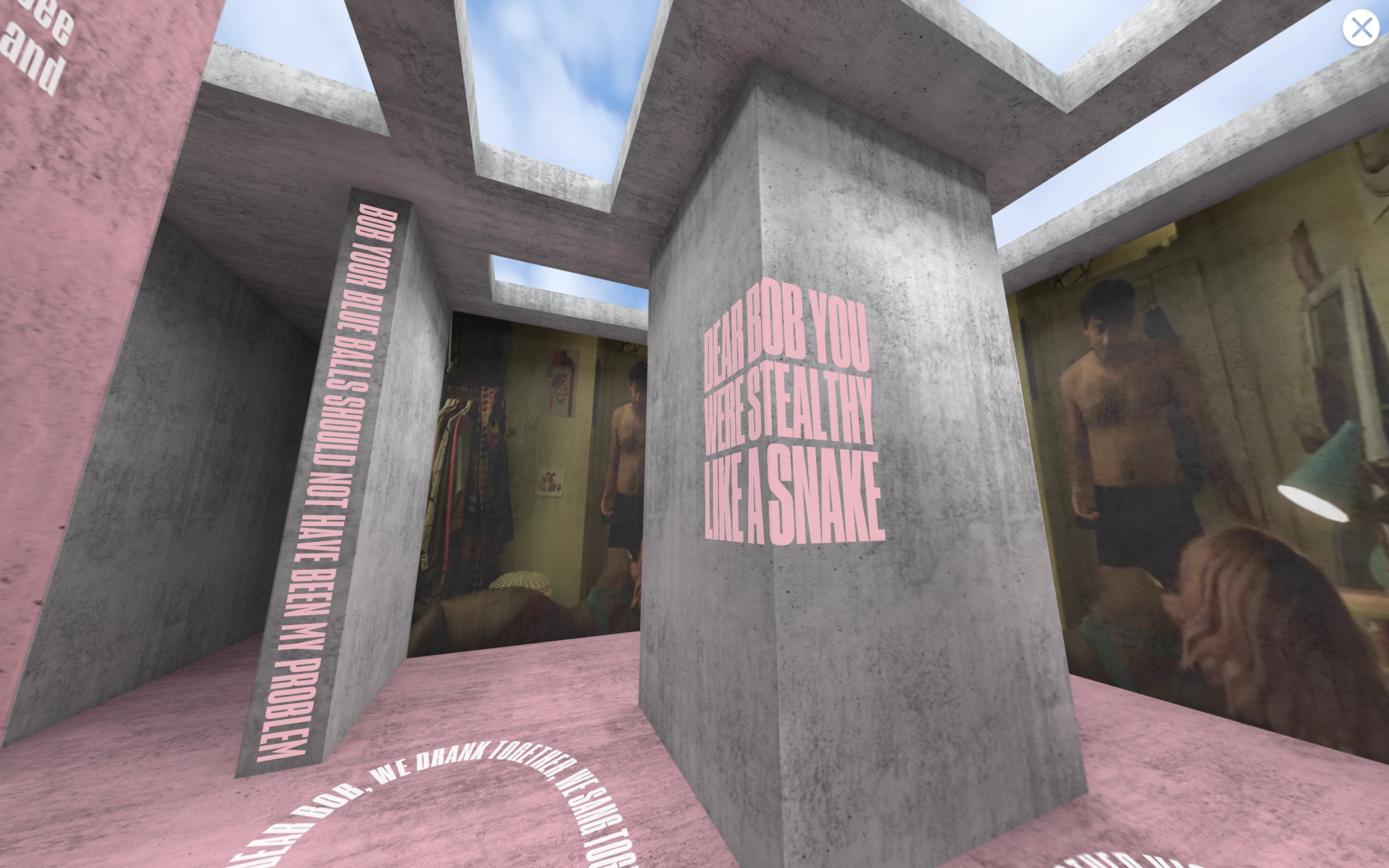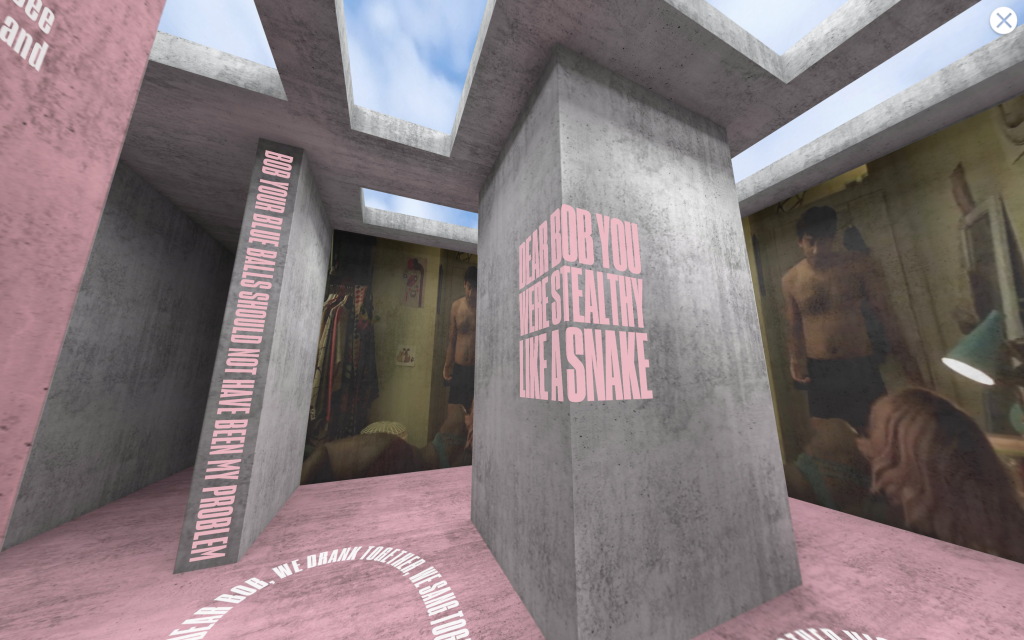 How we did it
We worked closely with the BBC Creative team to realise their vision for the experience. With lockdown in full force, finding and 360° photographing a real location was out, so we set about producing a virtual building. This opened up a range of creative possibilities that would not have been possible within the budget if we had done a physical shoot. We explored different room styles, architectures and layouts ranging from futuristic aircraft hangars to underground bunkers.
With an aesthetic agreed, we were then able to sketch out layouts that would provide the canvas for the experience to unfold within, and commissioned a 3D artist to create the space.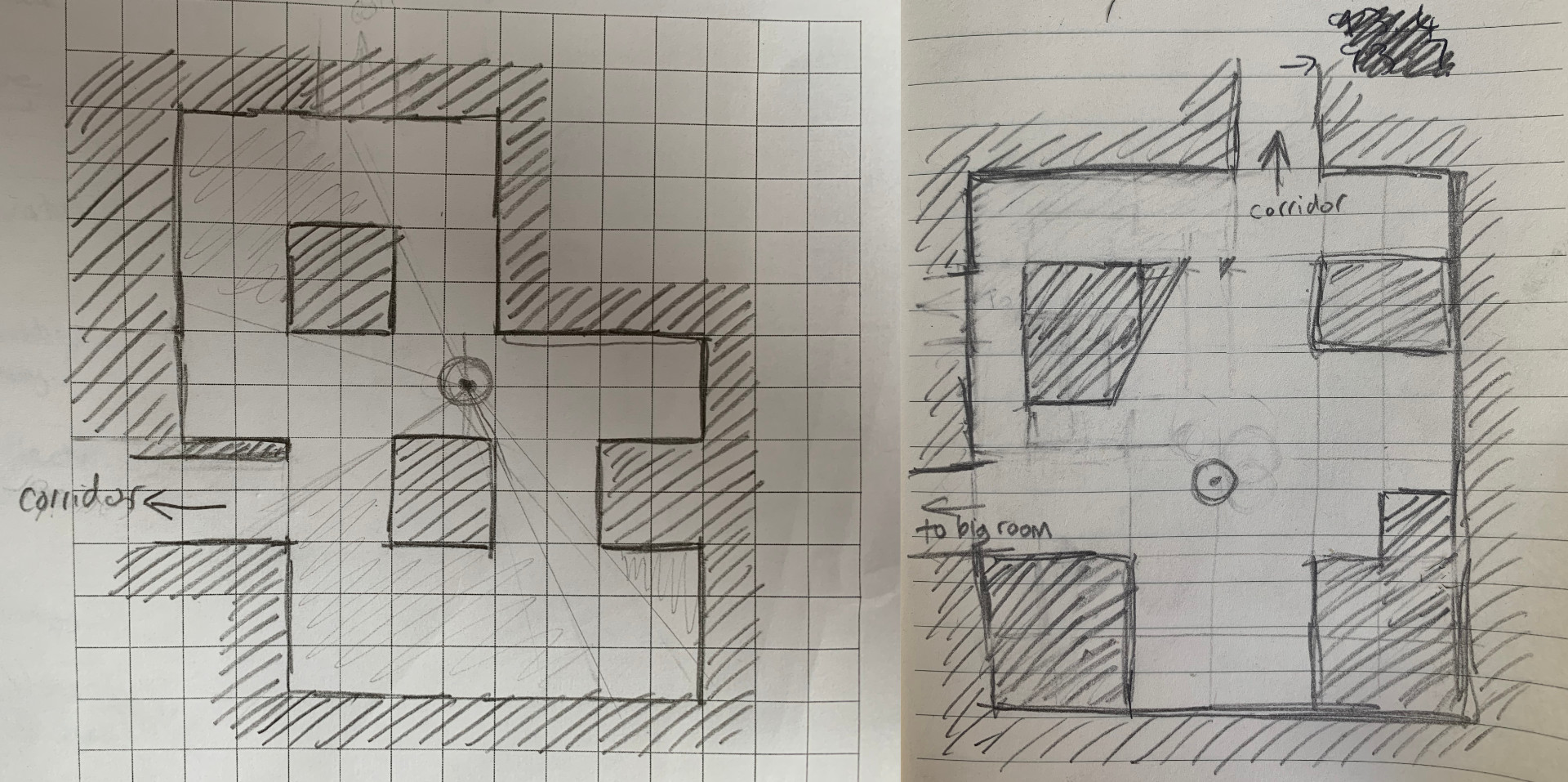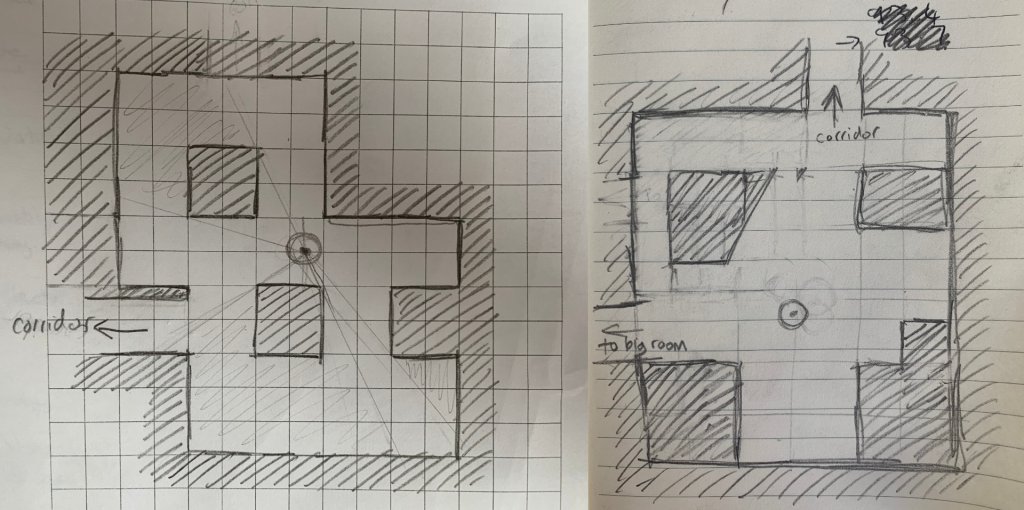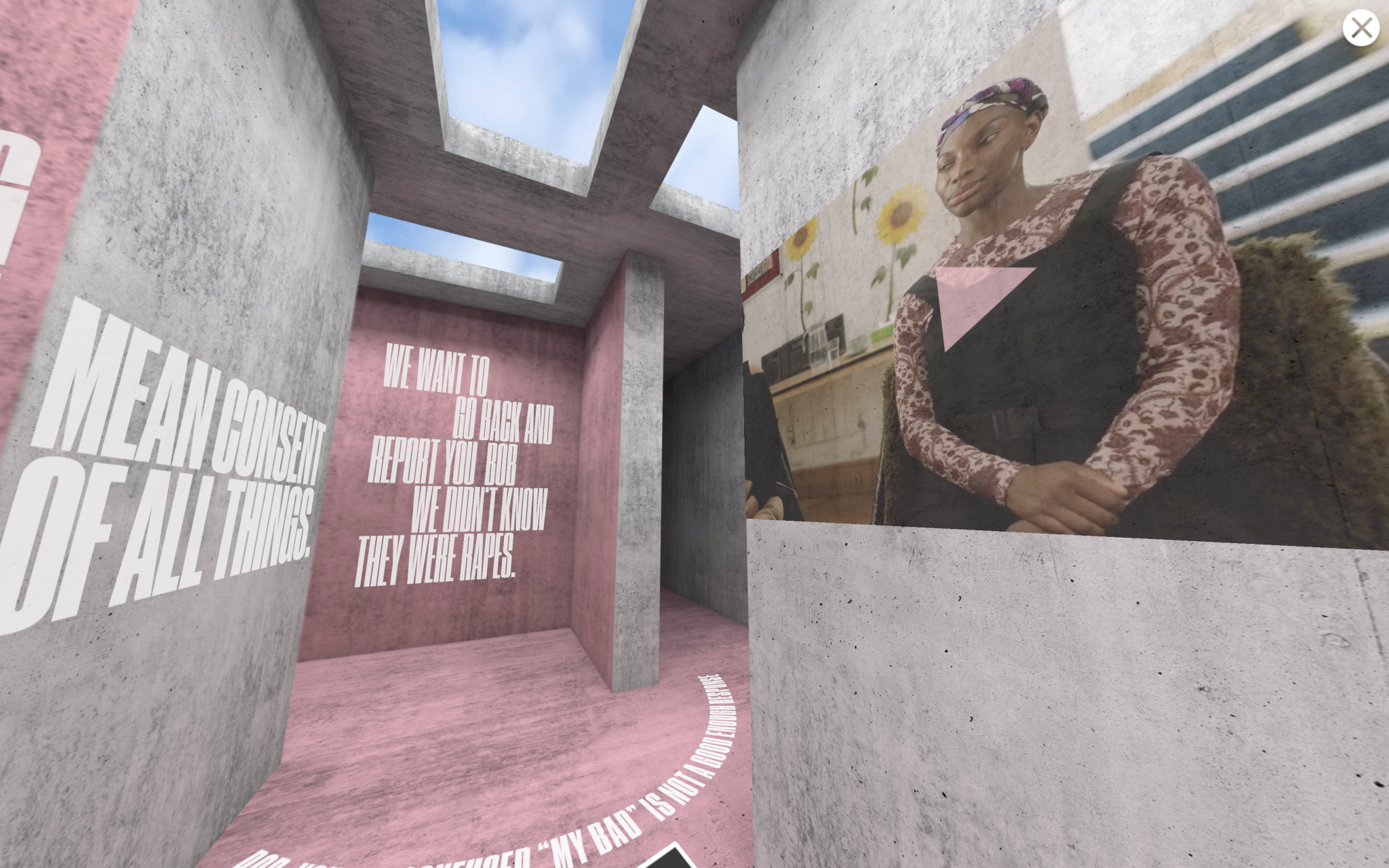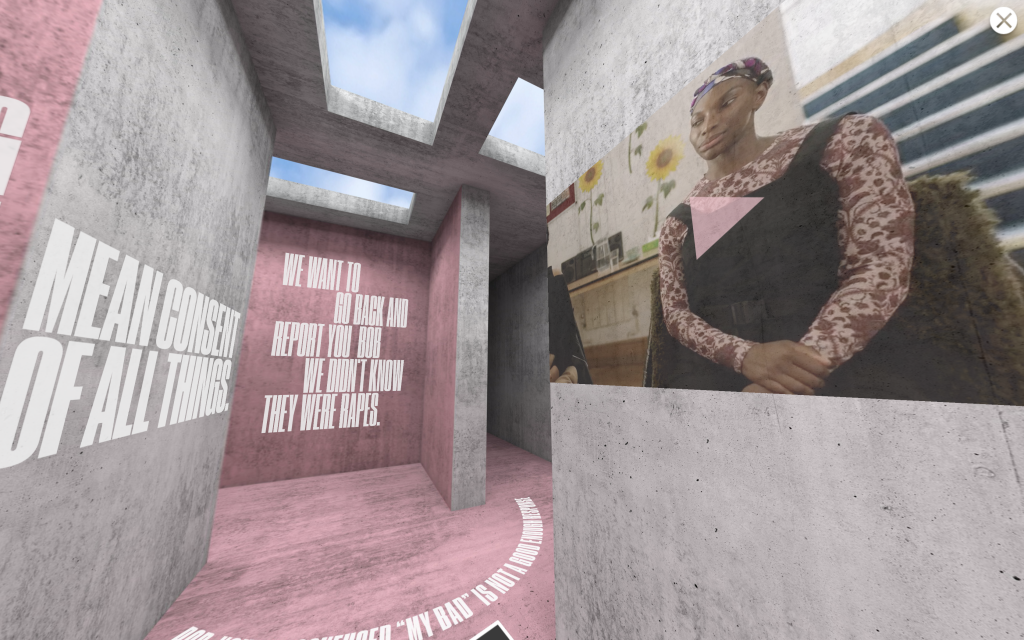 The wall artworks were created by BBC Creative's designers, and are composited in real time within the 360° space. Sound is used subtly to enhance the atmosphere created.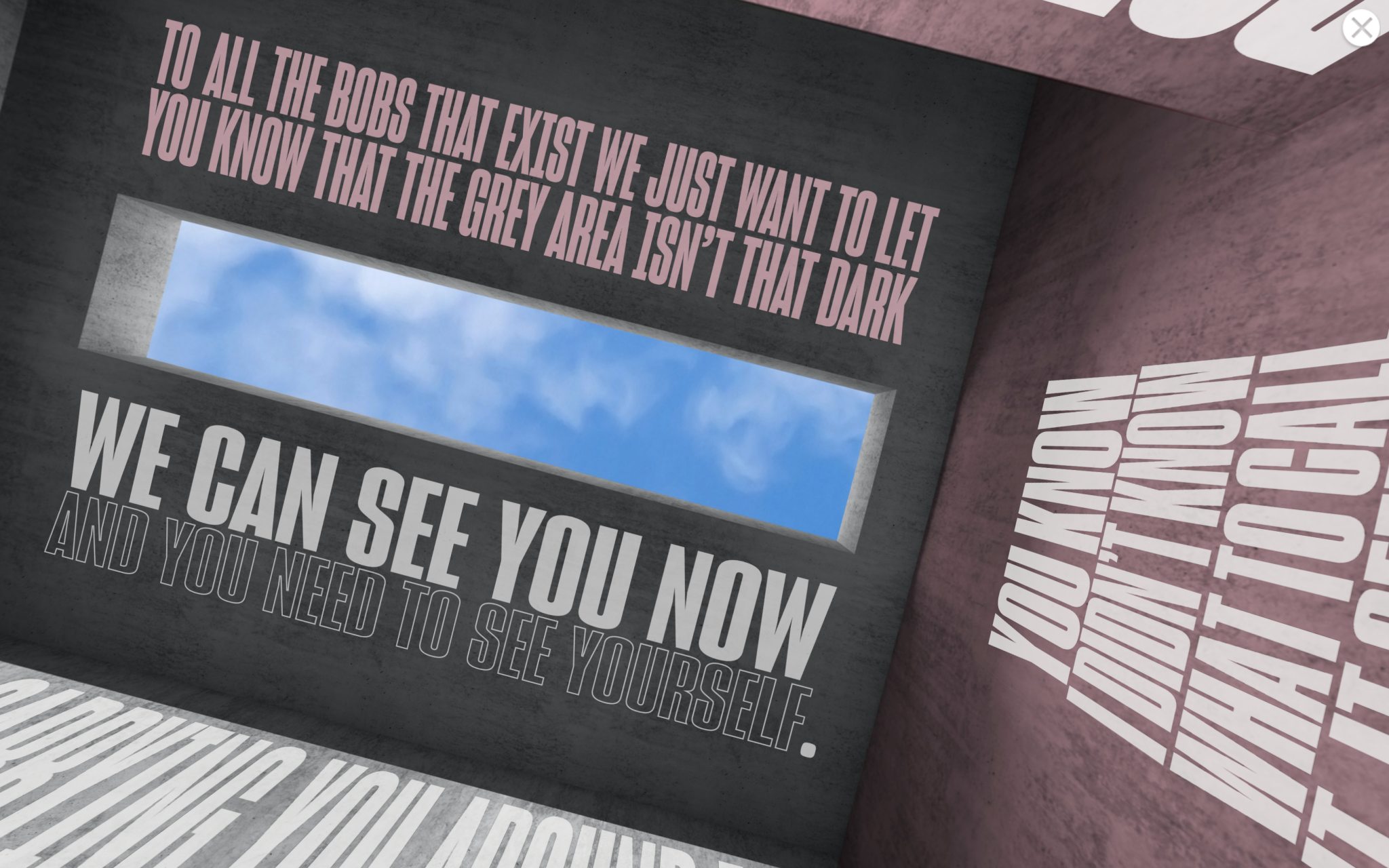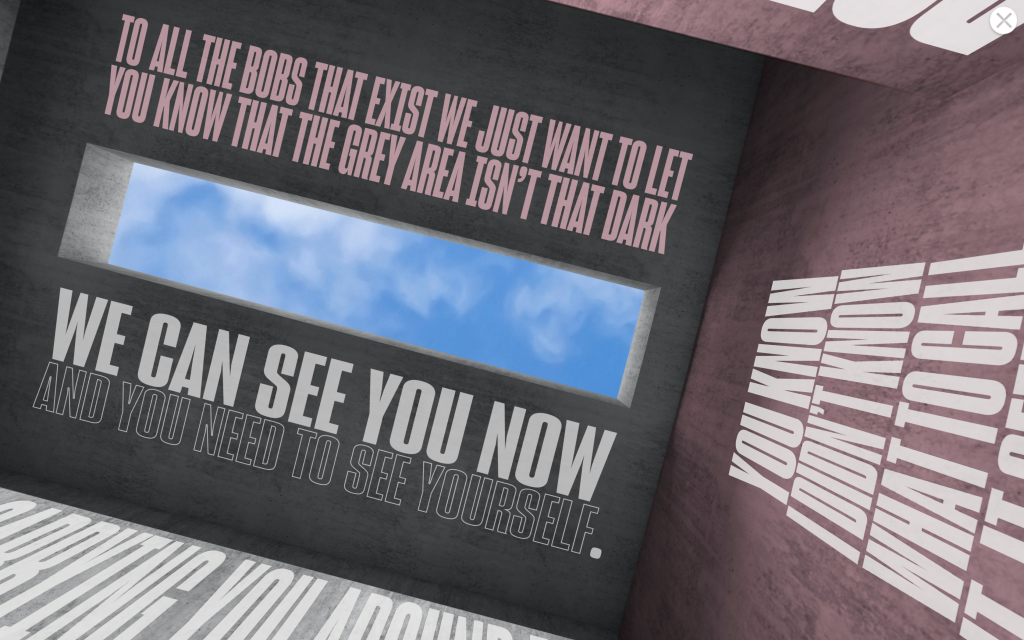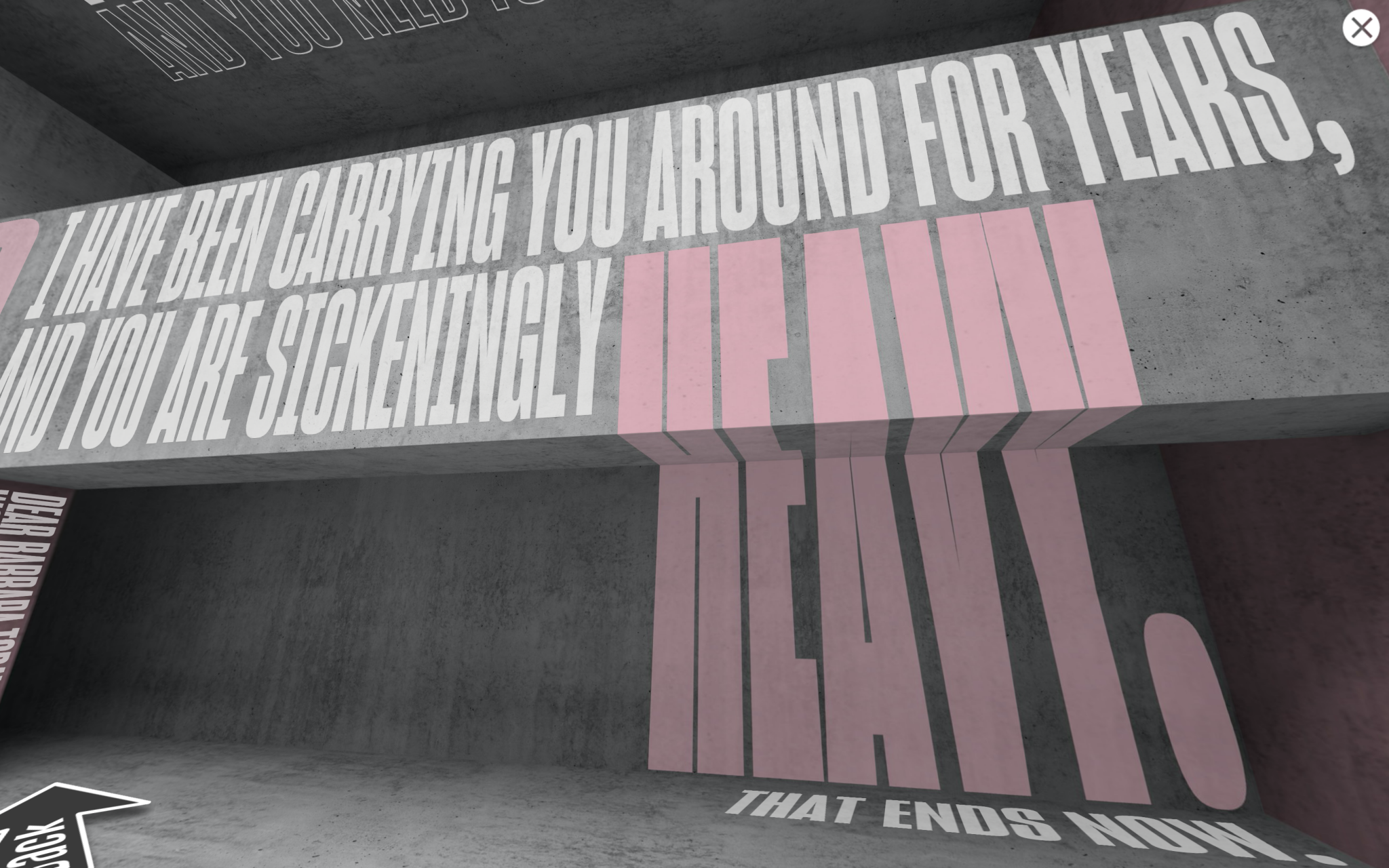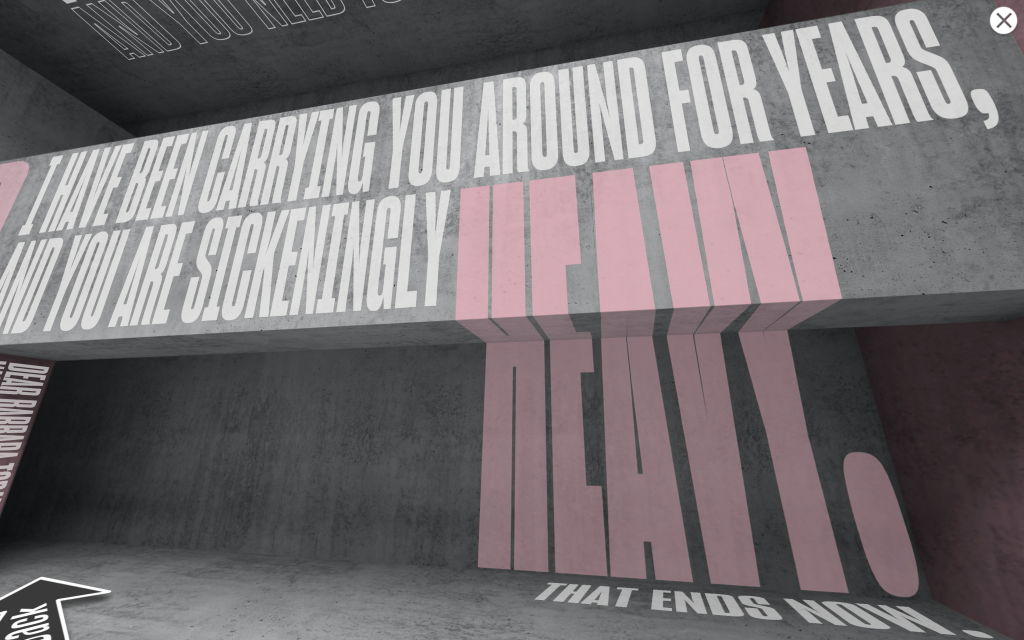 The experience works across desktop and mobile devices. Although it is intrinsically a visual experience, we wanted to make sure there was an accessible alternative, so there is also a text-based version which transcribes all the artworks.
https://dearbobexperience.co.uk